Penn State RB Saquon Barkley: Big day vs. Iowa could have been bigger
STATE COLLEGE, Pa. — Saquon Barkley jumped on the question in the same manner he attacked an open rushing lane an hour earlier.
He went right for it.
Barkley didn't need time to think. He knew exactly what he did wrong in a 41-14 win over Iowa. He didn't make enough guys miss.
"I wasn't really doing that too well today," the Penn State running back said.
After gaining 211 all-purpose yards, showing why he's the Big Ten's most explosive player, and that he's the top dog on a team peaking at the right time, Barkley wasn't satisfied. That's a downright scary thought for the rest of the league.
Barkley was a nightmare come to life for the Hawkeyes. He ran around them. He ran through them. He even ran over them, hurdling defenders to varying degrees of success. Iowa couldn't come up with an answer to stop him on a night where he thought 167 rushing yards and one touchdown wasn't great.
"I've got to get my shoulders square," Barkley said. "It's something that we work on every single day as a running back."
Without his 'A' game, Barkley went at least 13 yards four times, including a 44-yard touchdown reception.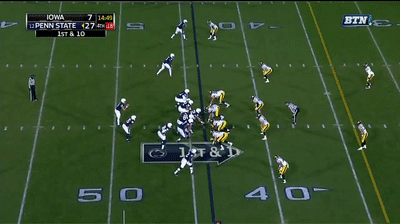 He created a head-shaking play with nearly every touch. Penn State coach James Franklin is still trying to figure out how Barkley eluded one tackle. He spun and knew enough to jump to evade a tackler going for his leg. That defender, he was only behind Barkley.
"I don't know if he was looking at the Jumbotron," Franklin said.
All he knows is no one else on the field makes that move. "That one was special," Franklin said. "I've never seen that before."
Barkley tried to explain it, but he couldn't. It's like getting Louis Armstrong to tell you how he came up with his improv. It just happens. It's the same with Barkley's runs. Sure, there is great vision, but there is something else, something no one else notices.
"It's a feel," Barkley said.
And it separates him from other runners.
There are quick runners. There are elusive runners. There are explosive, dynamic runners. There are guys who combine it all, not just Barkley.
But he sensed Iowa cornerback Greg Mabin behind him, on his right, about 30 yards into his 57-yard touchdown run. He also saw Iowa cornerback Desmond King in front of him.
Barkley beat both with one move, faking to his right to get King off balance whle cutting back to his left to run away from Mabin.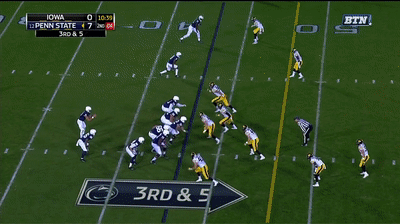 "Barkley is special," Big Ten Network analyst Matt Millen said. "He might be the best one out there."
Those comments lead to questions about the Heisman Trophy. Barkley deflected it, as he should. No one is getting near the award as long as Louisville quarterback Lamar Jackson keeps putting up video game numbers.
But still, only eight running backs entered the weekend with 1,000 yards. Barkley topped the mark on Saturday. He's gone for 200 yards in two of his last four contests.  If Franklin lets him, Barkley does it against the Hawkeyes.
It's why he's running toward the Big Ten's offensive Player of the Year award along with Northwestern wide receiver Austin Carr. Barkley can see everything, but is choosing to look past any hardware that might come his way.
"The only thing you can focus on is what you do yourself," Barkley said. "You control your own destiny and talk about writing our story. The pencil is in our hand."
He's writing a heck of a tale. One, he knows it will improve once he starts making more tacklers miss. And then? He's really going to wow his coach. The Jumbotron comment sits with him.
"I should start looking up at the scoreboard," Barkley said.
Big Ten defenses are warned. This is just the start for Barkley, unless the video boards get removed.