Dotting the 'Eyes: Are the Buckeyes close to landing a 2018 linebacker?
Recruiting never stops, and if you take a day off, you fall behind. Join us every night for a daily recap of Ohio State recruiting news, insight on what's happening behind the scenes, and for a glimpse at what's coming next.
---
Buckeyes lead for 4-star 2018 linebacker Adrian Jackson
Ohio State is actively pursuing two Texas linebackers as they look to wrap up its 2017 recruiting class, but the Buckeyes might not have to wait much longer to land their first linebacker in the 2018 class. Adrian Jackson, a 4-star linebacker from Denver told Landof10 that the Buckeyes are at the top of his list.
"Ohio State is first (on my list) because they produce a lot of talent," the Mullen High School star said. "And they have that family atmosphere."
Jackson visited Columbus for two days in June, spending time with Ohio State defensive coordinator Luke Fickell.
"I try and give (the Buckeyes) a call once a week," Jackson said. "When we talk, (Luke) Fickell just says he wants to keep me locked in, and they want to make sure that they are No. 1 on my list."
Jackson (6 feet 2, 210-pounds) says Ohio State may be, at least for now, the only school on his list.
"I'm not really looking in at other schools," Jackson said. "Not right now.
Jackson appears poised to make a decision. Were it not for his mother asking him to consider slowing down, the country's ninth-ranked 2018 outside linebacker believes he may have already tried to end his recruitment. Jackson does not seem interested in the recruiting hoopla.
"My recruiting process has never really got out of control, it's always stayed calm," he said. "I was thinking about making a decision sometime soon, but my mom thought that I should wait it out until my junior season is over at least."
Why does he mother want him to wait?
"She worries that I'd change my mind," Jackson said.
Is that something he worries about? "No."
Though he's only been to Ohio State once, Jackson says he hopes to see Columbus again in early October.
"I'm going to try to get out to one of Ohio State's games," he said. "I'm thinking October 1 (homecoming against Rutgers), because that's my only off week."
Jeremy Ruckert includes Buckeyes in early top schools list
Ohio State's top 2018 tight end target, Lindenhurst Senior (N.Y.) 4-star Jeremy Ruckert, has released his Top 13 schools list.
#Top13??These are just schools that offered me that I'll mainly be focusing on. I'm still open to any new interest. pic.twitter.com/KUGCzqs88V

— Ruck (@Jeremy_Ruckert1) August 11, 2016
Yes, it's early, but you should expect the Buckeyes to remain one of the top schools for Ruckert as he narrows his list. Ohio State made a major impression on the country's sixth-ranked tight end during his visit for Friday Night Lights, and he knows that he's the Buckeyes' top recruit at the position.
Wyatt Davis setting the standard for offensive linemen
If you like recruiting – and you've not been living under a non-internet-capable rock for the last several months – you're likely aware that Ohio State's 2017 recruiting class is good.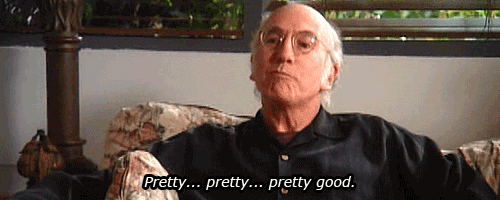 So, naturally, we start to hyperbolize and and assign random, unnecessary superlatives in an attempt to describe each player in the group. That's just what we do, right? 
Right.
It's important to keep expectations realistic since these are high school seniors, but the talk around Bellflower (Calif.) St. John's Bosco 5-star offensive lineman Wyatt Davis is hard to ignore.
Eric Sondheimer of LATimes.com has Davis rated as the top offensive lineman in Los Angeles' Trinity League, which isn't really surprising considering Davis' No. 17 overall ranking in the 247Sports.com composite rankings. It's obviously not just the media talking about – and being impressed by – the 6-foot-5, 310-pound Davis.
"I don't know if it's because he's out in California or because it kind of happened so quickly," one source close to the Davis' recruitment said. "But I don't think people really know how good Wyatt is and how good he can be. If Michael Jordan is able to come and get himself into a position to play at Ohio State this year, I could see Wyatt fighting for playing time at the other guard position next year. He's that good."
Todd Huber, who coached Davis at The Opening in Oregon – a kind of high school combine for the nation's premier players – has said similar things in the past, citing a versatility that's rare for an interior offensive lineman.
"I look at Wyatt as a guy who has 5-position versatility," Huber said. "He has tackle length and his basketball background gives him incredible side-to-side, short-area quickness. He's a really bright kid that can come in and learn all five (offensive line) positions and plug in where he's needed early on before eventually finding a permanent home."
It's never too early to place too many expectations on a recruit, is it?
Lamont Wade still a real option for Ohio State? Yes, I think
The reality of Ohio State's 2017 defensive back recruiting is this: There's a lot of names already committed and a lot names to still consider and – because of that – a lot of moving parts that need to get a long look.
Who is currently committed? 
5-star cornerback Shaun Wade
4-star cornerback Marcus Williamson
4-star cornerback Amir Riep
4-star safety Isaiah Pryor
4-star athlete/safety/linebacker Brendon White
Beyond that group, Ohio State is the favorite to land 5-star cornerback Jeffrey Okudah, and they're still in the mix for 4-star cornerback Lamont Wade as well, right? Wade says so, his father says so, and there are plans to make at least one more visit to Columbus before he makes a decision in December.
Where is the room?
There's, of course, the debate around Wade, who many believe will flip to Alabama and end up dropping out of Ohio State's recruiting class, even though the country's third-ranked cornerback continues to say the right things. Wade has insisted that he's 100-percent committed to the Buckeyes but rumors of Bama's influence, and now planned official visits to Notre Dame and Michigan, can't be ignored.
Trinity 2017 CB Shaun Wade & ATH DJ Matthews reppin #OhoiSt & #FSU @DuvalSports @OhioStateFB @FSU_Football pic.twitter.com/RvfToTElyp

— PHILL-DuvalSports (@dreamkingfilmz) August 11, 2016
White is almost certainly a linebacker in college. Okudah has begun to talk more about Oklahoma and some believe the Sooners have actually become the team to beat for his services, so don't count him in, yet.
It was – about a year ago – presumed by many that Wade would end up a Buckeye. That's what happens when a prospect makes eight or nine visits to a school in a one-year stretch. It's the old adage of "watch what they do, not what they say," and what Wade was doing had a very Ohio State-centric vibe to it, though lately that's shifted to Penn State and Pitt more than the Buckeyes.
But Wade continues to wait to make a decision. He continues to talk to and about Ohio State. The Buckeyes conversely continue to work with and talk to Wade. He wants to enroll early, and the Buckeyes – who weren't sure they'd have a spot for him to do so – have told him won't be a problem anymore. Wade has told Landof10 previously that it'd be "worked out" if he ended up committing to Ohio State.
What happens with Wade and Okudah may have a bigger impact on Lamont Wade and the Buckeyes than anything else, but right now, that door remains open.
Is there an inside edge for Tufele?
There isn't much room left in the Buckeyes current recruiting class, especially on defense, where there are likely three more players out there somewhere that will end up joining the country's top-ranked class. As it stands, there's the aforementioned Okudah, a linebacker (likely 5-star Texas star Baron Browning or 4-star Texas inside linebacker Anthony Hines III), and – if the right one is available – another defensive tackle, that Ohio State would like to bring into the fold.
So, knowing that, it seems the right guy at defensive tackle is Utah's Jay Tufele, the third-ranked defensive tackle in the nation. He's listed Ohio State as his favorite for some time despite not yet stepping foot on the Buckeyes campus, and the talk around the water cooler right now is that the battle for Tufele's signature may end up coming down to Ohio State and Michigan.
On Monday, the Wolverines added a third defensive tackle to their own 2017 class, Toledo's James Hudson. The Central Catholic three-star prospect, who plays offensive line and defensive end for the Fighting Irish, told Rachel Lenzi of the Toledo Blade that Michigan sees him as an interior defensive lineman.
Hudson said UM's coaches project him as a 3-technique at defensive tackle.

— Rachel Lenzi (@RLenziBlade) August 8, 2016
Can that help Ohio State's cause? Maybe. We know that Jim Harbaugh and Michigan (as with most programs) aren't shy about upgrading from one committed player to another, if the opportunity presents itself. If Tufele wants to go to Michigan, the numbers won't be a problem.
Ohio State has tackles committed as well. As we've mentioned here before, the Buckeyes have two defensive tackles already pledged, but it's been clear from the start that they'd like a third. Of course, there's also at least an outside shot that one of those two committed players – Jerron Cage – could end up elsewhere: his brother Daniel plays at Notre Dame and those Fighting Irish, likely to get a few visits from Cage this fall, haven't stopped recruiting him.
When Tufele starts making visits this fall, his status will certainly get clearer.
Isn't recruiting fun?
---
Unless otherwise noted, all rankings come courtesy of 247Sports.com.
Got information on a recruit? Tips on a player we should talk about? Comments about how terrible I am or just questions or opinions you want to share? Let me hear it.