3 for 3: In a recruiting class for the ages, who was the biggest miss for Ohio State in 2017?
In 2017, according to the 247Sports.com composite rankings, Ohio State had the country's second-best recruiting class.
The group featured a whopping 11 of the country's top 70 overall prospects and had 13 of 21 signees ranked as top-10 players at their respective positions. The class was the highest-ranked group in the Urban Meyer era at Ohio State (tied with the 2013 unit that included names like Ezekiel Elliott, Joey Bosa and Darron Lee) and was the country's best class if you use the "average ranking per player" metric.
So, in the words of Seinfeld creator Larry David …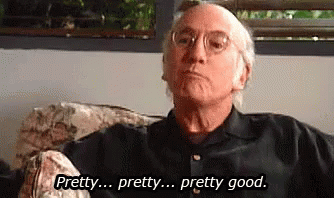 But there were still misses. Urban Meyer and his band of recruiting cohorts didn't swing and miss often, but it did still happen a few times.
This week in 3 for 3, myself and my cohorts from Rivals.com and Eleven Warriors, Marc Givler and Andrew "TeddyHeisman" Ellis, went over that class with a fine-toothed comb and decided to break down who was the biggest miss in the class.
It wasn't as easy a task as you'd think, considering the overwhelming success of the group from top to bottom.
Anywhere, here are our thoughts:
Marc Givler, BuckeyeGrove.com: OT Trey Smith.
Most of the elite guys that Ohio State missed on in 2017 were long shots from the very beginning, including Smith. But Ohio State's tackle depth right now is, in my opinion, the weak spot on the current roster and landing a big-time prospect at that position would have been the cherry on top of what might be Urban Meyer's best class since coming to Columbus. Smith was at the very top of the Buckeyes' tackle board nationally and had the body, mindset and mental acumen to come in and be on the two-deep from day one.
There are very few things that could derail another great season for Ohio State in 2017, but an injury to Jamarco Jones would be one of those things as it would completely scramble things up along the offensive front. Smith could have provided immediate depth this year and made the long-term outlook at the position that much better.
Andrew Ellis, elevenwarriors.com: If I take off my Lynn Bowden blinders, the 2017 class – at least on paper – is the best class I've seen assembled at Ohio State. There certainly were a few relatively big misses, but I think the biggest one has to lie in the trenches, and there are three names that come to mind with one standing slightly above the rest.
Offensive tackle was a big need for the class, so Trey Smith electing to stay home with Tennessee wasn't ideal, especially since Josh Myers may very well end up on the interior. Four months later, the 2018 class is already shaping up nicely at the position, so that makes me feel a lot better.
At defensive tackle, the Buckeyes missed on Marvin Wilson as the 5-star Texan signed with Florida State. However, I think the bigger loss may have actually been the No. 2 player at the position.
Leesburg, Ga.'s Aubrey Solomon was very high on the Buckeyes early on, and while I don't think anyone had fully bought into it actually happening, the ties to the Peach State were enough to give some hope.
Solomon wasn't mentioned as much as guys like Smith or Wilson or Cam Akers, but he gets the nod for me because he ended up siding with Jim Harbaugh's Wolverines. That stings a heck of a lot more than losing a kid to Tennessee or Florida State.
Birm, Land of 10: I am going to agree with both Marc and Andrew, kind of.
There's no doubt that Trey Smith would've been a monster addition to an offensive line group that included two other 5-star talents in Josh Myers and Wyatt Davis. However, despite the rumblings that Smith was seriously considering Ohio State right before he opted to stay at home in Tennessee (which everyone always knew he would, if we're being honest with ourselves), it always felt like he would've just been a cherry on the top of the 2017 recruiting sundae.
As for Aubrey Solomon, there was a little early interest between the two parties and Ohio State could've definitely used another defensive tackle in the 2017 group, but the reason that one "stings" the most isn't because he went elsewhere, but because of where he ended up.
For me, the loss of 2017 was the final loss of 2017, Texas 5-star defensive tackle Marvin Wilson. Ohio State was his "dream" school when it offered in the spring of 2016 and he became a real option for the Buckeyes because of his ties to Ohio State signees Jeffrey Okudah, Baron Browning and J.K. Dobbins.
After an official visit to Columbus in November, Ohio State went all in on Wilson and there were a number of reasons to feel optimistic in that pursuit as the expected "favorites" in LSU and Texas fell off for various reasons.
The Buckeyes signed two excellent defensive tackle prospects but there's no one on the roster in the mold of Marvin Wilson, and he could've been a key cog in the future of the Ohio State defensive line for three seasons.