Desmond King 2.0: Is freshman Manny Rugamba Iowa's next shutdown cornerback?
IOWA CITY, Iowa — After a minute of gushing over the play of cornerback Manny Rugamba, Kirk Ferentz slipped in the comparison.
"Hopefully, now he can take it, this experience, and roll with it," the Iowa football coach said. "Desmond kind of got into the game the same way about four years ago so a good role model that way."
Desmond, as in All-America cornerback Desmond King.
Ferentz didn't come out and say Rugamba is the next King, but the similarities around their first big moment tie the two together after Rugamba took home Big Ten Co-Freshman of the Week honors following the Michigan victory last Saturday.
"He can be a really good player down the road," linebacker Ben Niemann said.
He was one against the Wolverines. Rugamba, a true freshman, filled in for an injured Greg Mabin and became a key part of the 14-13 upset win. He recorded 4 tackles, 3 pass breakups and an interception.
It was similar to the first big moment of King's career. As a true freshman he started the 2013 season opener against Northern Illinois. He finished with 4 tackles and 1 pass breakup.
Rugamba made more big plays than King did in his first game. Rugamba broke up a Michigan touchdown pass in the end zone. He ripped a reception away from Michigan receiver Jehu Chesson for a fourth-quarter interception.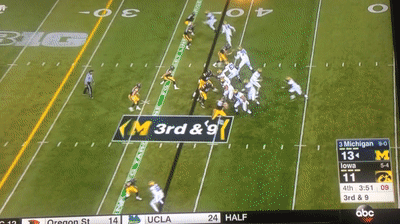 "He played his butt off and hopefully he can come out this week and play if off again," linebacker Josey Jewell said.
Iowa will need him, too. Mabin is out for the rest of the regular season with a fractured leg.
There is a whole week to get ready for Illinois. Rugamba didn't get the same luxury when Mabin went down late in the week. The short prep time may have helped Rugamba.
"I don't know if it dawned on him how good the guys he would be competing with were," Ferentz said.
It didn't take the Hawkeyes long to realize Rugamba wasn't your typical freshman. He won the nickel spot early in the season as Ferentz liked his demeanor and work ethic.
"He's not arrogant by any stretch, but he has some inner confidence about his ability," Ferentz said.
Rugamba's instincts stood out to Jewell in camp. Jewell believes it's the biggest reason Rugamba is playing as a true freshman.
"He breaks as soon as the ball is thrown," Jewell said. "He has that break speed that I've never seen from a lot of guys. It's pretty good."
Better than King?
"I don't know," Jewell said. "…  That is what you have to have at corner. They all have amazing break speed."
Iowa is seeing a better Rugamba in the second half of the season. The time he spends with the playbook is starting to show up on the field.
"They don't know what they are getting into when they get here," said Niemann of freshmen. "Getting a better grasp of the defense, I would say, and it allows you to play faster."
Rugamba will start alongside King the next two weeks. Iowa's top two corners are seniors. Rugamba very well may be tasked with replacing King as Iowa's shutdown corner next season after his Michigan performance.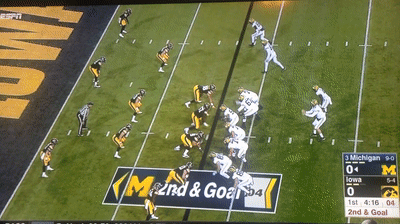 "Everybody around him supported him," Ferentz said. "Everyone was positive. Nobody worried or panicked about it or at least we didn't let him know we were panicking. I guess he did a good job. It's a credit to him."
There is no panic anymore, not when the head coach throws out King as the model for Rugamba's potential path. King went from freshman starter to All-American to Thorpe Award winner. No one threw around such lofty expectations for Rugamba on Tuesday.
But the Hawkeyes didn't hide their excitement about him either. After Michigan, they can't help but talk about him like they do King.
"He has a lot of young talent and just continue to continue to build off of that," quarterback C.J. Beathard said. "He is going to be a great player someday."