At Second Glance: How C.J. Beathard's injury changed Iowa's Outback Bowl
IOWA CITY, Iowa — The pressure forced Iowa quarterback C.J. Beathard out of the pocket. He pump-faked to freeze Florida linebacker Vosean Joseph and headed toward the end zone, but Florida's Marcell Harris was waiting. Beathard wiggled free from the collision, but fell a yard short of paydirt.
This third-and-goal play looks like one player trying to make a play. But on second glance, there was so much more here. The second-quarter scramble, when Beathard injured his right hamstring, was the defining moment of the contest.
Let's break down the film.
How Beathard's injury impacted Iowa's offense
The injury occurs in the clip below.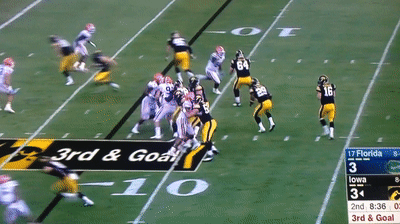 The Iowa offense wasn't great before his injury, but the Outback Bowl was never expected to be an offensive game. There was only so much the Hawkeyes would be able to do with the football, and Florida's defense, even down several starters, was still more than formidable.
The Hawkeyes gained 109 yards in the four series before and including when Beathard got hurt. That's 48.2 percent of the team's total yards as Iowa failed to move the ball in the final 38:30.
So how did a hamstring injury alter the game?
Early on, Beathard was a factor. He used his feet to make plays, scrambling three times for 18 yards before the injury. Arguably his best pass of the day came on Iowa's fourth drive, when he hooked up with tight end George Kittle for 18 yards on a third-and-14.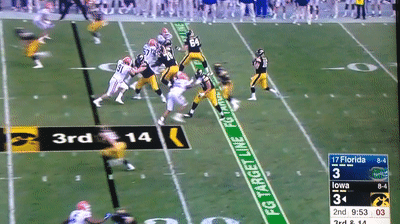 It was good coverage, but a better play by Kittle, running his in route, and Beathard, hitting him. Beathard wouldn't throw a longer pass all day.
And that was part of the problem.
The hamstring injury limited Iowa's offense and made Beathard a non-factor. Bootleg passes were gone, though the Hawkeyes didn't use them much early in the game. But the threat of him running disappeared. He never rushed again and became a stationary target, never leaving the pocket unless forced to. Florida didn't need to respect his mobility, and it changed how it defended Iowa. As a result, the passing game became non-existent.
| | | | | | |
| --- | --- | --- | --- | --- | --- |
| Timeframe | Completions | Attempts | Percentage | Yardage | INTs |
| Pre-injury | 3 | 9 | 33.3 | 25 | 0 |
| Post-injury | 4 | 14 | 28.5 | 30 | 3 |
The numbers weren't great to start with, but they got worse after the injury. Beathard only completed one pass to a wide receiver, and it didn't come until the third quarter. There is no denying that the play at wide receiver was a big problem.
But the issues went beyond that. Florida knew it could load the box with defenders to contain the rushing attack, that there would be no repercussions. Beathard couldn't move, and the quarterback run wasn't there as an effective countermeasure.
Iowa, especially Akrum Wadley, put together a decent rushing day. But with the Gators focused on the rushing attack, they limited the number of big plays Iowa could produce.
As the game wore on, Florida started to getting to Beathard more and more. That's a bad situation for a guy who can't run. His three interceptions effectively ended the contest.
His first was a high pass, tipped by tight end Nate Wieting right to Florida defensive back Chauncey Gardner, who raced 58 yards for a touchdown.
Beathard made a mistake on his second interception. When pressure forced him to his right, Beathard threw the ball across his body toward wide receiver Riley McCarron. That's usually not a good idea, especially for a quarterback with only one healthy hamstring. The result was Gardner's second interception.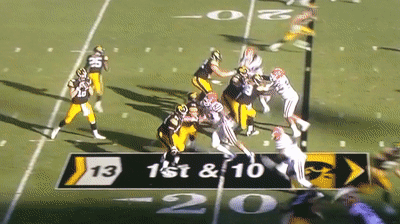 The third interception again highlighted the issues Florida's pressure caused. The Gators ran a twist, trying to get a defensive end free on an interior pass rush. Defensive tackle Taven Bryan's job was to clog up space during the stunt. But instead Bryan pushed Sean Welsh and Cole Croston back, hitting Beathard as he threw. The ball fluttered to linebacker Daniel McMillian for an easy interception.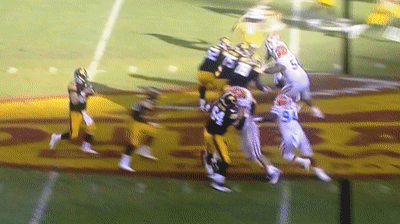 Looking back at fourth-and-goal
On Monday, Iowa's unsuccessful fourth-and-goal run, right after Beathard hurt his hamstring, stood out as possibly the biggest play in the game. Upon further review, while it was an important play, the Hawkeyes would have struggled to put up enough points to win regardless if they had scored on that fourth down.
The offense was built to score a touchdown when needing 1 yard on one play. Going for it wasn't the problem; execution was. Florida safety Marcel Harris ended up in the backfield to make the stop, even though two Iowa tight ends were near him on the snap.
Kittle sealed off defensive back Quincy Wilson. Wieting took a step to his left, toward Harris, but never touched him, instead going to the second level to block. Fullback Brady Ross was unable to get to Harris before the Florida player tackled running back LeShun Daniels for a loss.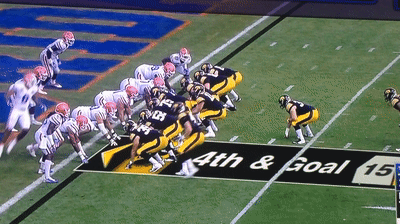 Final Thoughts
In the four drives before Beathard got hurt, the Hawkeyes scored a field goal (thanks to a turnover in Florida territory), moved the ball 32 yards and got to the 1-yard line. After the injury, Iowa made it into the red zone one more time, failing to score.
It didn't matter what the defense and special teams did after the injury because the offense wasn't going to be a threat.
And it's tough to win any bowl with an offense that can't score.