Iowa film room: The path the North Texas game shows to stopping No. 4 Penn State
IOWA CITY, Iowa — North Texas served as a pretty good warm-up act for Iowa's upcoming meeting with No. 4 Penn State. The teams both run spread offenses and try to do similar things to a defense.
With that in mind, let's break down Iowa's 31-14 win against North Texas with an eye on how the Hawkeyes performance, especially on defense, impacts the meeting with the Nittany Lions on Saturday (7:30 p.m., ET, ABC).
What Iowa can't do
North Texas and Penn State each want to spread out a defense, get playmakers in space and exploit mismatches. The Mean Green did a great job of it in the first half. North Texas scored 14 points and racked up 242 total yards, averaging 8.6 yards per play.
There are three big lessons for Iowa moving ahead from the first 30 minutes of action:
Lesson 1 — Tackle in space
These spread offenses are designed to create 1-on-1 matchups. If a defender doesn't make a play, there isn't always help nearby and a miscue turns into a big play.
That's exactly what happened on North Texas running back Jeffery Wilson's 41-yard touchdown run. The offensive line locked in on the first- and second-level defenders. It created a big hole. Linebacker Josey Jewell is out wide and unable to get near Wilson.
A 15-yard run became a touchdown when safety Jake Gervase misses a tackle. Fellow safety Miles Taylor can't wrap up Wilson and he scampers into the end zone.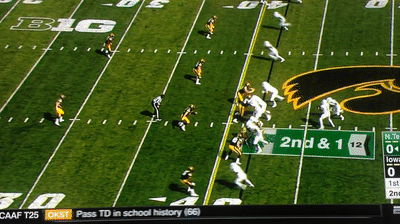 Lesson 2 — Defending on an island
North Texas and Penn State create the same kind of 1-on-1 situations in pass defense. The theory is that only one wide receiver needs to win an individual matchup for the offense to move the ball.
This is especially the case with man defense. Getting beat, especially deep, in the passing game holds the same kind of grave consequences as missed tackles do. The Hawkeyes need to play sound, fundamental defense and keep plays in front of them.
When they don't, something like a 41-yard reception by North Texas wide receiver Turner Smith happens. He beats cornerback Matt Hankins in man coverage. With no help over the top, it becomes the Mean Green's longest pass play of the day.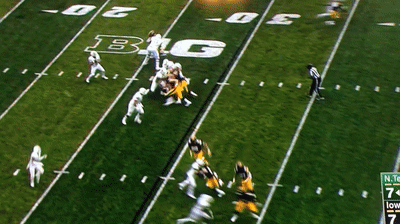 Lesson 3 — Be careful when substituting
It's not easy to substitute against a spread offense, especially when it goes up-tempo. The worst thing a defense can do is try to swap out defenders and get caught out of position.
It happened in the first half when Iowa tried to match a North Texas substitution by bringing in its dime package. Iowa players aren't set at every level of the defense and the Mean Green breaks off a big run.
A holding penalty negates the run, but the Hawkeyes can't count on a flag bailing them out when defenders are out of position.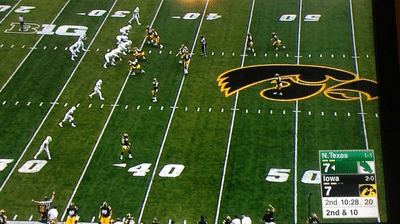 What Iowa must do
The second half was a total reversal of the first two quarters. The Mean Green gained only 78 yards on 19 plays. They averaged 4.1 yards per play and produced four plays of at least 10 yards, with two coming on the first five plays after intermission.
There is a blueprint for what the Hawkeyes need to do with the Nittany Lions and there are two big lessons here:
Lesson 1 — Generate pressure
The Iowa pass rush was nonexistent early. It allowed North Texas quarterback Mason Fine to pick apart the defense.
The Hawkeyes did a better job of getting pressure on Fine, with a four-man pass rush and blitzes. With less time to throw, quarterbacks don't have time to run through all their progressions to find the best option to target.
The pass rush doesn't need to always generate a sack, like it did with Parker Hesse in the third quarter, but it's a bonus when it does.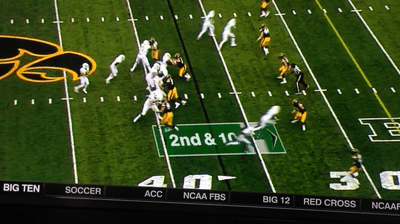 Lesson 2 — Make the plays that are there
Slowing down a spread offense revolves around doing a lot of the basics.
Shed a block. Wrap up. Don't let a player get behind you.
The best bet for the defense to get off the field is to make the plays that are there. For example, on a second-and-8, Fine tries to throw to North Texas wide receiver Rico Bussey in a tight window. Cornerback Manny Rugamba is there and deflects the pass away.
Rugamba's play sets up a third-and-long and leads to a punt.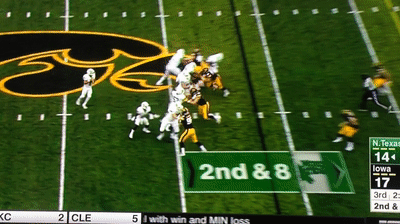 Being in position and making the play when asked goes a long away against a spread team. The proof is in the North Texas second-half drive chart. Doing your job goes a long way to getting stops.
| | |
| --- | --- |
| Drive | Result |
| 1 | Punt |
| 2 | Punt |
| 3 | Punt |
| 4 | Interception |
What about the young running backs?
Iowa lost its top two running backs to injury against North Texas. Akrum Wadley suffered a right ankle injury. The Hawkeyes expect him to play against Penn State. James Butler will miss 3 weeks after injuring his right arm against North Texas.
Iowa turned to redshirt freshman running back Toren Young and freshman Ivory Kelly-Martin against North Texas. The youngsters showed they are capable of filling in as needed against the Nittany Lions.
They combined for 155 rushing yards and 2 touchdowns. Iowa pulled away when the offensive line and the backs leaned on the North Texas defense, scoring touchdowns on three straight second-half drives.
What really stood out about Young and Kelly-Martin was how they played against their supposed running style. Young is 5-foot-11, 220-pounds and physical embodiment of an Iowa power back. But his longest run of the day came when he showed some wiggle. Offensive linemen Sean Welsh and Keegan Render create a sizable hole on the right side of the line. Young bursts through and shows his speed on the 15-yard gain.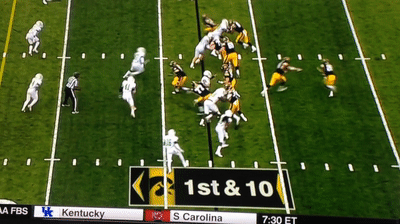 Kelly-Martin is 5-foot-11, 195 pounds and known for his athleticism and burst. Yet, his 23-yard run gains only about 5 yards if he doesn't run through North Texas safety Makyle Sanders.
Sanders settles in the hole, but Kelly-Martin shakes off his arm tackle and uses his speed to nearly get to the end zone.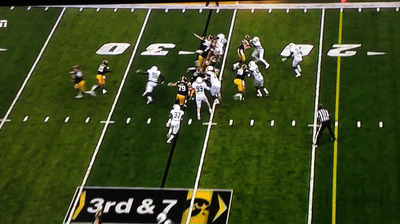 Final thought
Iowa still is a work in progress. It's not what fans want to hear with the No. 4-ranked team coming to town next.
The inconsistent nature of the team is why the Hawkeyes have trailed in the first half of every game this season. Iowa continues to show resiliency, but falling behind before halftime isn't a recipe for success with Penn State.
The Hawkeyes looked better against a spread team in the North Texas game than the Iowa State game. Improvement is there, but more is needed this week if they're to upset the Nittany Lions.