Iowa football: First-row Kinnick Stadium fans heckle, build unique relationship with opposing players
IOWA CITY, Iowa — Iowa fans were close enough to touch Wisconsin linebacker Vince Biegel's mullet. They didn't. Instead, they let the Wisconsin linebacker know what they thought about it last October.
It looks worse than you play.
Not even your mother could love that.
Wisconsin linebacker T.J. Edwards hid a smile with each comment.
"I thought (it) was great because I thought it was terrible," Edwards said.
Kinnick Stadium is unlike other Big Ten football stadiums. The fans in the first row are a big reason why. There isn't much room on the opposing sideline, allowing the Hawkeyes faithful to interact with the opposition.
A unique relationship forms and it's one everyone revels in, creating a game-day atmosphere Big Ten teams don't experience elsewhere.
"I have been asked plenty of times the craziest or intimidating places to play and I have to say Iowa," Illinois offensive lineman Christian DiLauro said. "There are no other stadiums in the Big Ten where you come off the field and you are touching the fans. They can reach out and touch you. You are hearing them the whole time while your coach is trying to game plan with you and all that. You have the fans right there yelling in your ear making it a little more difficult to hear things."
A proper Iowa introduction
The fan-player conversation never stops. It starts before kickoff and runs all four quarters. It's a constant mix of screams, questions and insults.
Biegel's hair becomes a talking point. Wisconsin tight end Troy Fumagalli is bombarded with questions about having only nine fingers.
Teammates and coaches tried to prepare Edwards about it. It didn't come close to reality.
"It was definitely noticeable," Edwards said. "I mean it was cool to be interacting with fans a little bit and just kind of jabbing at them. It's cool. It makes you realize it's a rivalry."
The tight fitting nature of the sideline is the a ingredient. There isn't much room for all the equipment, medical supplies and bodies to fit. Everyone is jammed together like livestock in a pen.
"You can't walk on the sideline without having to push somebody away," DiLauro said.
There isn't room behind them either. Fans can lean out over the railing, making the stadium walls seem closer than it is.
For opponents, it's a lot sitting next to a loud uncle at a family dinner. There is no escape and the only option is to listen.
"It's all in good fun," Wisconsin linebacker Jack Cichy said. "It's nothing vulgar. Just good jabs."
It's an ongoing two-way dialogue during a game. Players declined to say what teammates say back, but the experience is as fun for some players as the fans.
"I actually like it," Minnesota linebacker Jonathan Celeste said. "I like their stadium. It's like a little bowl. I went there two years ago, my sophomore year, and I like it. I like how loud it gets."
Inside the mind of Iowa's fans
When Tom McGee saw the 2017 football season opened with Wyoming traveling to Iowa one thought entered his head: I need to be there.
He is a Wyoming alumni and lives in Cheyenne, but was born and raised in Clinton, Iowa. He wanted to wear a black and gold t-shirt and sit as close to the field as possible.
To his surprise, he found first-row seats for himself and some friends. He sat in section 103, row 1, seat 24 as much to experience what the first-row is like up close as to take part in it.
"I can't wait to see what happens," McGee said. "I love the seats."
So did Andrew Bales and Lucas Leatherman in Section 110, row 1 and seats 7 and 8. They sat near the Wyoming tunnel to enter the field.
This too was their first game so close to the action. They didn't come prepared with any heckles. They wanted to see how the game played out and how their fellow fans treated the Cowboys before jumping into things.
Bales and Leatherman did, though, want to pay attention to Wyoming quarterback Josh Allen. If anyone was going to be their target it was him, especially if he threw an interception, which he did in the fourth quarter.
"I get to see the potential No. 1 pick for the NFL draft," Leatherman said. "I want to see if he lives up to all that hype."
Bales and Leatherman felt the front-row seat came with responsibilities. They wanted to live up to them and make the most of the experience because of the advantage it can provide to the Hawkeyes.
"It's huge for us," Bales said. "I think noise is a huge factor for the fans to help the defense. Anything we can do to help ruin the day for the opposition we will."
'I didn't think it would be that bad, but it was'
Former Wisconsin running back Melvin Gordon should have know what was coming. He attended an Iowa-Ohio State game as a Hawkeyes commit in 2010. He witnessed what the fans do to an average player, let alone to someone who de-commits to a rival like the Badgers.
The fans started in on Gordon before kickoff upon his return in 2013 and didn't stop until he left the field. Wisconsin won 28-9, but it didn't feel like it to the mentally-shaken Gordon.
"I knew it was bad, they told about that," Gordon told the Cedar Rapids Gazette in 2014. "But I didn't know it was going to be that bad. It was even worse because I had de-committed from there so I'm telling you they had this paper and they were quoting everything, everything. Everything! They quoted me word for word. It was amazing. I didn't think it would be that bad, but it was.
"It was two guys really just right there. You'd walk down a little, and you've got those guys talking trash and right behind our bench and you'd see the same guys, the same two or three guys right there letting you have it. I hope they're not there next year. I really do. They know who they are if they're watching this."
The fans got to Gordon. It's the first thing defensive tackle Nathan Bazata points too when explaining why the first-row is so vital to Iowa's home field advantage.
"It could be an edge for us if they aren't used to it or anything like that and our fans can get pretty riled up so that's awesome to see," Bazata said.
Fan interactions extend beyond the opposing sideline. Those behind the Iowa bench will try to strike up a conversation with the Hawkeyes. But those chats tend to be a little friendlier.
"It just feels like people are on top of you and it's loud," Bazata said. "I mean, it's not a stadium that goes back a long ways. It's more vertical and that's a cool environment. It's pretty loud on our side too."
The tight fit also causes a problem for opponents trying to regroup between series. Those in the first row can see adjustments opponent's draw up on whiteboards as well as the opposition. DiLauro is convinced they can hear his coaches better too.
"He is on one side and I have two fans screaming on my other shoulder and I can't hear what he is saying," DiLauro said.
Cichy would gladly trade his Kinnick story for DiLauro's. The compact nature of Kinnick's sideline played a role in Cichy suffering a torn pectoral muscle in last year's game.
He first slammed into a bench tackling Iowa quarterback C.J. Beathard in the second quarter. On the next play, he smashed into sideline equipment after tackling Iowa running back Akrum Wadley. Cichy played part of the second half, but missed the remainder of the season.
"(I) went flying and crashed into an exercise bike that's usually off to the side more," said Cichy who is out with a torn ACL this season. "Maybe it can add a little more anxiety when you are on the sideline. People are in close quarters. You have a lot of testosterone going around on the sideline during the game so that may be a little aggravating."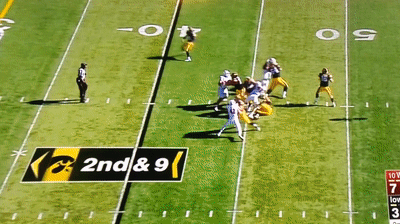 The Kinnick sideline is cramped, uncomfortable and not a lot of fun. But it's not enough to deter Minnesota defensive lineman Steven Richardson. He has the Oct. 28th game circled and not just because the Floyd of Rosedale is on the line.
"I actually have  never played at Iowa, but I am very excited for that," Richardson said. "I really want to play at Iowa. I heard it's a crazy atmosphere."
The more things change the more it stays the same
North Texas gets the pleasure of dealing with the first-row fans on Saturday (3:30 pm, ET, ESPN2). Richardson will do so six weeks later.
But there will be one difference.
Iowa removed a couple of rows of seats between the 25-yard lines behind the opponent bench this off-season. The athletic department planned to a couple of years a go to do it as part of the Kinnick Stadium renovation process, athletic director Gary Barta said.
The seats taken out were typically covered in a black tarp for game day because they are obstructed view seats.
"It wasn't about moving seats out," Barta said. "It was about creating more space on the sidelines. We had to replace those walls just for maintenance reasons. We've always known we've had such tight sidelines that this was the time to do something about it.
More room may decrease the chance of a Cichy-type injury from happening again, but DiLauro expects one thing to remain the same.
The first-row fans will still be in his ear when the Illinois coaches talk to him.
"I don't know if it will change much," DiLauro said. "They'll just scream louder to make sure you hear them."