Iowa Film Room: How Nate Stanley delivered his biggest answers yet, and Brian Ferentz's evolving offense
IOWA CITY, Iowa — The 2017 Cy-Hawk game wasn't just an all-timer for the in-state rivalry. The Hawkeyes' 44-41 overtime win at Iowa State served as an amplifier, bringing strengths and weaknesses to the forefront during the nearly four-hour slugfest. Nowhere was that more evident than with quarterback Nate Stanley.
Let's investigate.
Nate Stanley's big drives
Arguably, the most important question Iowa needed to answer early this season was how would Stanley respond when forced to throw the ball while trailing.
Pretty well, it turned out. Again and again, the Hawkeyes started drives in need of points. Each time, Stanley did what the coaching staff asked. He made correct reads and limited his mistakes.
The best example of Stanley showing command of the passing game came during the team's first full fourth-quarter possession.
Let's set the scene: Iowa State just scored to go up 31-21. The Hawkeyes had the ball on their 8-yard line and 11 minutes, 40 seconds remaining. They needed to score on this drive if they were to make it a game.
Here is how Stanley responded:
| | | |
| --- | --- | --- |
| Pass Play | Situation | Result |
| 1 | 1st & 10, Iowa 8 | Nick Easley curl route, 12-yard gain |
| 2 | 3rd & 5, Iowa 25 | Defensive holding on throw to Noah Fant |
| 3 | 1st & 10, Iowa State 44 | Peter Pekar short pass, 9-yard gain |
| 4 | 1st & 10, Iowa State 33 | Incomplete throw away |
| 5 | 3rd & 11, Iowa State 34 | Akrum Wadley screen, 19-yard gain |
| 6 | 1st & 10, Iowa State 15 | Ihmir Smith-Marsette vertical route, 15-yard touchdown |
This series was a good representation of what Iowa asked Stanley to do. There were a bunch of short passes where Stanley found the open receiver. Of his two incompletions, one was a safe pass throw-away and the other came with a defensive holding call. When Iowa needed him to make a big play, Stanley did.
Stanley ended the drive throwing the ball to where only his player would catch it — in the back of the end zone on a 15-yard touchdown reception by wide receiver Ihmir Smith-Marsette.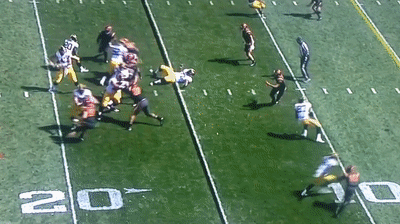 The final series of the first half, when Iowa went from down 10-7 to up 14-10, and four fourth-quarter series fit the criteria evaluated here. Iowa was trailing, couldn't just rely on the running game and needed Stanley to make a few plays.
On those series, he went 10 of 18 for 185 yards and 3 touchdowns. He didn't force passes and generally made the right decision. He took what the defense gave him and let his playmakers make plays.
When he did look downfield it resulted in touchdowns. He also hooked up with wide receiver Matt VandeBerg on vertical route for the 17-yard touchdown to give the Hawkeyes the lead at the half.
Stanley still was far from perfect. Overthrows on deep passes were a problem, especially with Fant. And that needs to be addressed.
But it shouldn't overshadow what Stanley showed when Iowa needed him most during his 333-yard, 5-touchdown performance. Answering his biggest question mattered most.
Not your father's Iowa offense
ESPN2 announcer Kelly Stouffer made a comment during the game that Iowa offensive coordinator Brian Ferentz was searching for speed in his offense.
His plan to locate it was by getting his playmakers in space and it showed up in a very surprising way against Iowa State.
The Hawkeyes appeared to be joining the run-pass option (RPO) revolution taking over a good portion of college football.
Watch this screen pass to Wadley. Lining up in the slot, he ran a quick out while wide receivers Nick Easley and VandeBerg blocked for him.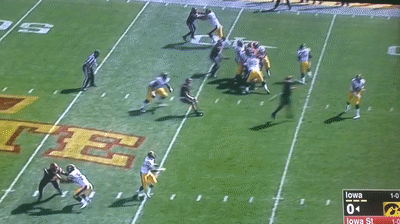 Now, go watch the play again, but focus on the offensive line and the running back. The line run blocked instead of pass blocked and tailback James Butler moved like it was going to be a handoff.
RPO's are plays with built-in run and pass components. Spread offenses use them a lot and basic math dictate what the offense will do.
The Hawkeyes will run if only five or six defenders are in the box. They will throw the screen if only two defensive backs line up on the three receivers. They will go wherever they hold the numbers advantage.
The Hawkeyes used the play in two- and three-wide receiver sets throughout the contest. Easley's 10-yard touchdown in the first quarter was either an RPO or a last second audible by Stanley, who communicated with his receivers shortly before throwing the ball. Again, watch the offensive line and running back move like it's a run.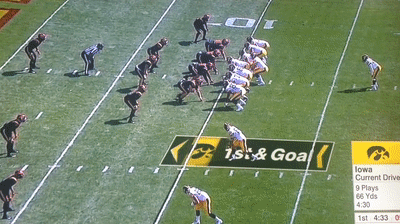 RPO's can help a team avoid tendencies and also get an offense into the best possible play on each snap. The plays worked against the Cyclones. Watch for them in future weeks.
How Akrum Wadley is evolving
Running back Akrum Wadley secured a place in Cy-Hawk lore with his 46-yard touchdown reception to tie the game in the fourth quarter. Land of 10 broke down why the play highlighted the differences in Wadley's running ability as a senior.
Here is a quick visual of it. Watch Wadley stutter to get Iowa defensive back Evrett Edwards off-balance before running through him to get to the end zone. The desire to finish off a run like that and the strength to do it weren't there last season.
Iowa #Hawkeyes fans might want to watch this about 5,000 times. Akrum Wadley. Mercy, indeed. pic.twitter.com/UPoJ38Nokp

— Danny Lawhon (@DannyLawhon) September 9, 2017
This 35-yard run is a great example of the Wadley Iowa fans saw last year. The blocking of the offensive line and Wadley's athleticism and vision created the big play.
Wadley's speed and a block by guard Sean Welsh let him run past Iowa State linebacker Joel Lanning at the line of scrimmage. A little stutter step put him into the open field and another juke on Iowa State defensive back D'Andre Payne allowed him to gain an additional 10 yards downfield.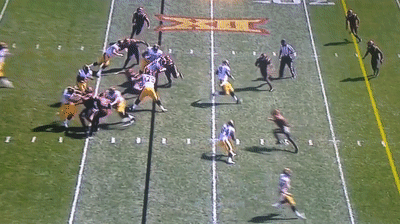 The second clip showed a playmaker. The first clip showed a more dynamic back, one with additional tools at his disposal. The Iowa State game was likely a glimpse of why it is going to be tougher to stop Wadley in his final college season.
Secondary struggles
Saturday wasn't a banner day for Iowa's defense. The Hawkeyes lacked a consistent pass rush and secondary breakdowns kept popping up — and Iowa State kept exploiting them.
Big plays were a big problem. The Hawkeyes only allowed one pass of at least 20 yards against Wyoming. The Cyclones had six, including two for touchdowns. The breakdowns came against both man and zone and were at all levels.
A short pass to Iowa State running back David Montgomery became a 23-yard reception when he wiggled free from linebacker Bo Bower after running a curl route. Fellow linebacker Josey Jewell was in position to keep Montgomery short of a first down, but Montgomery used a stiff arm to get past Jewell and into the open field.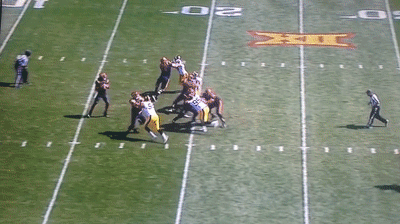 A lot of the big Iowa State passing plays were tied into secondary miscues. Players were out of position too often. Iowa State quarterback Jacob Park and wide receiver Trever Ryen hooked up on a 19-yard completion when Iowa cornerback Manny Rugamba followed a receiver on a post route instead of staying home in zone and covering Ryen on his delayed wheel route.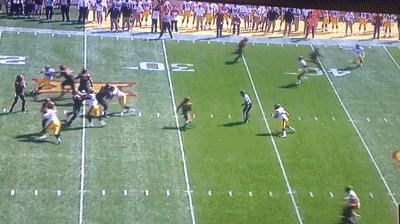 Iowa State overcame an 11-point third-quarter deficit and built a 10-point lead early in the fourth because of its success through the air. It wasn't the best game for Rugamba, who only played in sub-packages for a large part of the second half.
Defensive end Parker Hesse's fourth-quarter interception helped the Hawkeyes secure the comeback win, but cutting down on the defensive backfield breakdowns is a must before Big Ten play begins.
Offensive line shuffle
Right tackle Ike Boettger went down with a right leg injury in the third quarter. Iowa coach Kirk Ferentz fears it's an Achilles injury and will cost Boettger the season.
The Hawkeyes used three different offensive lines without Boettger before finding success. Iowa's 10-point comeback came with this offensive line:
| | | | | |
| --- | --- | --- | --- | --- |
| LT | LG | C | RG | RT |
| Alaric Jackson | Boone Myers | James Daniels | Ross Reynolds | Sean Welsh |
It was kind of surprising to see Iowa move away from this initial line without Boettger:
| | | | | |
| --- | --- | --- | --- | --- |
| LT | LG | C | RG | RT |
| Jackson | Myers | Daniels | Keegan Render | Welsh |
The Hawkeyes scored a touchdown on the drive with this combination. Why the change? Probably the running game. Iowa rushed for minus-4 yards, and that includes a 1-yard touchdown run by Wadley, with this combination.
The third line Iowa tried (see below) likely didn't stick because of run-game troubles, as well. Its one series resulted in minus-3 rushing yards.
| | | | | |
| --- | --- | --- | --- | --- |
| LT | LG | C | RG | RT |
| Myers | Reynolds | Daniels | Welsh | Jackson |
Final Thought
Iowa-Iowa State was a wild game, a lot like two boxers trading power punches for 12 rounds. The Cyclones exposed the Hawkeyes in space. That must be resolved before Iowa faces No. 5 Penn State and its spread offense on Sept. 23.
The offense, and particularly Stanley, made growth between Weeks 1 and 2. Without it, the Hawkeyes don't take home the Cy-Hawk Trophy for the third straight season.