5 underclassmen for Iowa football to build around next season
IOWA CITY, Iowa — Iowa's senior class played a large part in the Pinstripe Bowl victory.
But those seniors won't be returning in 2018. If the Hawkeyes are to pick up another postseason victory a year from now, they'll need a new batch of players to step up and fill voids for next season.
The Pinstripe Bowl gave a glimpse of five underclassmen who can develop into cornerstone pieces for the upcoming campaign.
Defensive end Anthony Nelson
Yes, Nelson was a redshirt sophomore this season. He seems older because he started making plays as a freshman and hasn't stopped.
Nelson possesses a knack for making big plays when the Hawkeyes need them. He did it again in the Pinstripe Bowl.
With the game tied late in the fourth quarter, Nelson forced a turnover that set up the winning touchdown. He used a quick first step to get an advantage on Boston College offensive tackle Chris Lindstrom. Nelson ripped his right arm through to get to the quarterback. He was still working his way free when he batted the ball away, right to defensive end Parker Hesse.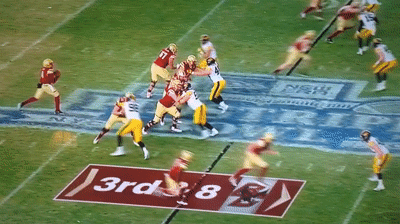 Coach Kirk Ferentz called Nelson's play the kind of  "spark" the Hawkeyes needed to win the game.
Nelson is already a star with 13.5 career sacks, but there is another level to go. With Iowa's biggest defensive playmaker, Josey Jewell, heading to the NFL, someone needs to fill his shoes. There is no better, or obvious, choice than Nelson. His size, athleticism, length and work ethic are special.
Iowa needs a new face of the defense. Nelson could easily become it.
Offensive tackle Tristan Wirfs
Wirfs, a freshman, brings all the physical pieces a team wants in an offensive tackle. At 6-foot-5, 315 pounds, he is tall, big and a little lanky. His athleticism is off the charts of a player at his position.
It's hard to beat Wirfs when he gets his hands on a defender in pass coverage. The following play ends in a sack, but keep an eye on Wirfs. He has good footwork, balance and positioning, locking onto Boston College's Kevin Bletzer and neutralizing the linebacker.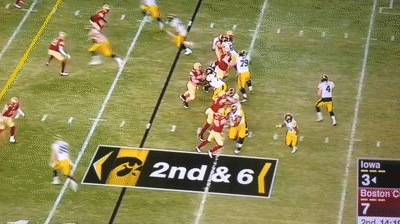 Wirfs learned on the job this season. A teachable moment popped up in the Pinstripe Bowl.
On the ensuing play, there was no defender for Wirfs to engage on the snap. As he dropped into pass protection, Wirfs moved his head, trying to identify a defender to block. He locked onto tight end T.J. Hockenson blocking defensive end Zach Allen to his left.
He never brought his head back to the right and it allowed Bletzer to run right past Wirfs for a sack.

When Wirfs got his hands on defenders, he more than held his own this season. Mental miscues, like falling to find a blitzing linebacker, cropped up time and again.
This is a common problem with young players. Wirfs' future is bright and looks like a long-term answer up front. That's exactly what the Hawkeyes need as they try to coax more consistent production from the offensive line, especially in the run game.
Safety Amani Hooker
Hooker, a sophomore, showed flashes of being a playmaker before a knee injury kept him out of the lineup for most of November.
The pre-injury Hooker returned for the Pinstripe Bowl. He led Iowa with 12 tackles, but the most impressive part of his performance was his play recognition and how it put him in position to help the defense.

For example, he quickly read a Boston College run in the first half. He started 5 yards off the line of scrimmage and quickly jumped into a rushing lane, wrapping up running back A.J. Dillon.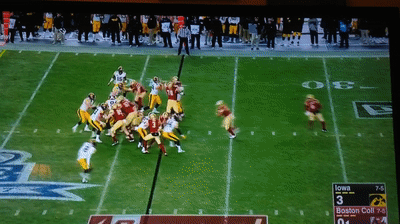 His play recognition stood out in pass coverage as well. He saw quarterback Darius Wade preparing to throw to tight end Tom Sweeney. Hooker jumped the route and tipped the ball. Unfortunately, it deflected right to Sweeney, who ran for a touchdown.
The result isn't what Iowa wanted, but everything else on the play from Hooker was.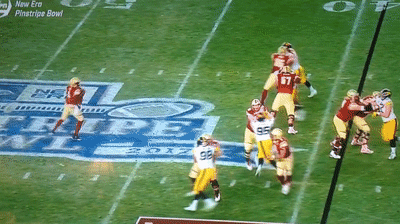 The Hawkeyes will replace all three starting linebackers. Hooker won't move to middle linebacker, but play recognition and playmaking skills can help cover things up in a linebacker transition that will have some rocky moments.
Also, he is versatile, capable of playing either safety position or nickel back. His versatility is as helpful to Iowa as his ability to dissect plays quickly.
Tight end Noah Fant
Fant did the most Fant thing possible in the bowl game. He scored a touchdown.
His team-leading 11th receiving touchdown came on a nifty play call. He lined up as an H-back in the left side of the backfield. As Iowa ran a play-action to the left, Fant headed to the right.
He was wide open for the throwback pass and waltzed into the end zone for the score.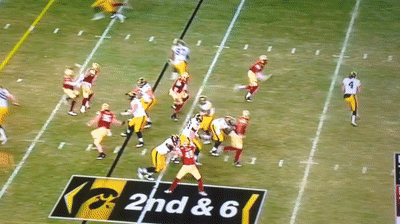 Fant put together a breakout season as a sophomore.  He was second with 494 receiving yards. Thirty-six percent of his receptions were for touchdowns.
Iowa needs more playmakers in the passing game, and Fant is ready to expand his role. He is capable of being a downfield threat, chain mover and red zone target. It's not common for a tight end to be a team's top receiving target, but Fant is capable of filling that role in 2018.
Tight end T.J. Hockenson
Fant isn't the only tight end ready for a larger role. Hockenson, a freshman, is kind of like a Fant clone. Both are extremely athletic and nightmare matchups. Fant was ahead of Hockenson as a receiver this year (and Hockenson held the edge in blocking).
Hockenson put everything you want from a tight end in the receiving game on display during a wheel route in the second half.

He was in one-on-one coverage with linebacker Isaiah McDuffie. The pass was underthrown and Hockenson jumped, and nearly came down with the reception while trying to make the catch through McDuffie. The officials called pass interference on the play.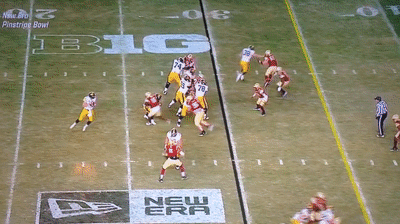 Offensive coordinator Brian Ferentz wants to put his best playmakers in position to make plays. It's a little unconventional, but the best options as pass catchers play tight end. Iowa may want to look into incorporating them more into the offense, the way a team would for a legitimate No. 1 wide receiver.
These aren't the only five underclassmen from this season that Iowa will count on next year. Sophomore quarterback Nate Stanley is arguably the most important player on the team and freshman defensive end A.J. Epenesa and freshman cornerback Matt Hankins could both start.
But the five players highlighted above will play a key role in what kind of season 2018 becomes.