Iowa film room: Akrum Wadley, seniors hit Yankee Stadium walk-off
IOWA CITY — Iowa finally snapped the bowl losing streak in the most Iowa-way possible, beating Boston College 27-20 in the Pinstripe Bowl on Wednesday.
The seniors walked off the field for the final time as winners in a bowl game, and several of them were integral to the victory and/or put together a performance that summed up their importance to the Hawkeyes.
Let's break it down.
Running back Akrum Wadley
Akrum Wadley was vital to Iowa winning 16 games the last two seasons. He also was the team's third-leading rusher when the Hawkeyes went to the Rose Bowl following the 2015 season.
It's fitting that he put together a classic Wadley performance in the Pinstripe Bowl, highlighting his versatility and ability to make plays in space.
He earned MVP honors while setting an Iowa bowl record with 283 all-purpose yards. Arguably, his most important play came right after a fourth-quarter strip sack by defensive end Anthony Nelson. Wadley rushed for 27 yards on that play, which helped to set up fullback Drake Kulick's 1-yard game-winning touchdown run.
The play also gave the Iowa faithful one final chance to see what made Wadley a two-time 1,000-yard rusher. It's a simple delayed trap with tight end T.J. Hockenson, lining up as an H-back, pulling and taking out the backside defensive tackle. The interior of the line opens up a crease, giving Wadley a little space — and that's all he ever really needs — as he breaks two potential tackles and runs into the red zone.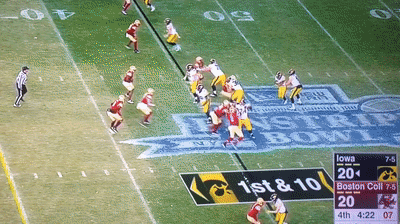 Wadley uses his speed, vision, athleticism and juking ability on the play. It's fitting his final big run combined the traits that made him a standout playmaker.
Linebacker Josey Jewell
In a lot of ways, Josey Jewell is the opposite of Wadley. The running back's big plays easily stand out because of his jaw-dropping moves.
But while Jewell has had a knack for making plays when Iowa needs them, they don't jump out at you. That's what makes him a special player.
Jewell seemingly is always doing the right thing at the right time. He is always in position and always reading the play correctly. He's a smart, physical and fundamentally sound player. Count among the big plays this first-half stop where he quickly takes off for Boston College running back A.J. Dillon, then works past a block of an offensive lineman to bring down Dillon.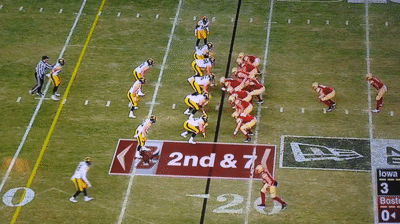 Plays like this were routine, and common, for Jewell. It's part of the reason why he goes down as one of the best linebackers in program history.
Linebacker Bo Bower
Not every senior in the class was a star. Most fell into the supporting-cast category. They didn't get the attention of a Wadley or a Jewell, but they wound up being just as important to the team's success as an All-Big Ten player or an All-American.
Linebacker Bo Bower falls into this category. The multi-year starter was the embodiment of what Iowa seeks out of its defenders. He was in position, made the plays before him and limited his mistakes.
He did it again in the bowl game. The Golden Eagles called a reverse for wide receiver Jeff Smith. On this play, their hopes of the gadget play turning into a big run are dashed because Bower does his job. He stayed home and wasn't fooled as Smith gained only one yard.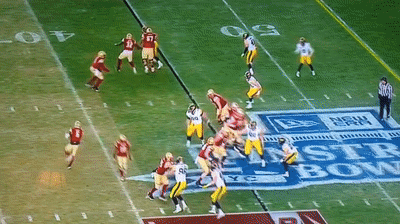 The frozen turf was a problem for both teams, with players slipping and sliding all over. The impact the turf had on the game is visible on this play. Cornerback Matt Hankins slips upon the snap and Smith loses his footing while trying to juke around the defense.
Running back James Butler
James Butler didn't put together the season he wanted. An elbow injury limited his impact. Butler, a graduate transfer from Nevada, is a playmaker, as he showed in the Pinstripe Bowl. But the impact he could have made as Wadley's tag team partner will live on in bar-room debates.
Butler shows his quickness, speed and why the Hawkeyes wanted to pair him with Wadley on an inside draw. Center James Daniels and Hockenson clear out the second level while the guards kick out the defensive tackles. It's worth noting that another senior, guard Sean Welsh, throws a key block here.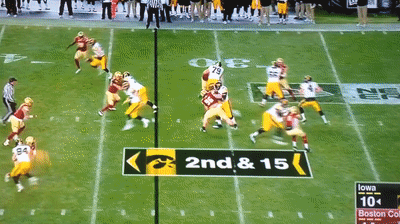 Cornerback Josh Jackson
No, Josh Jackson isn't a senior, but he could declare for the 2018 NFL Draft. There is a good chance this was his final game for the Hawkeyes.
He capped off his All-America season in style with an interception that helped seal the win in the final minutes of the quarter.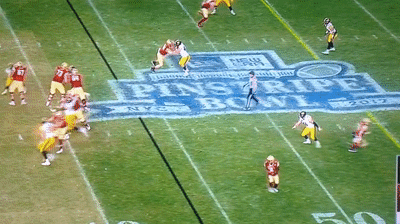 Yes, there was a lot of luck in this interception. Boston College wide receiver Kobay White tips the ball right to him.
It was the continuation of a season long trend of Jackson being in position to make a big play. This was the rare instance where Jackson's timing, length or coverage skills weren't central to an interception or deflected pass.
Final Thought
Iowa won its first bowl game since 2010. The victory mattered to the seniors. Snapping the bowl streak was a talking point — and not just because the media asked about it — in December.
Now, the seniors will spend the next several decades talking about the role they played in beating Boston College.