At Second Glance: Iowa's defense, Greg Davis and Akrum Wadley keyed Michigan upset
IOWA CITY, Iowa — Landof10.com already broke down the field goal that propelled Iowa to its 14-13 upset win over No. 3 Michigan on Saturday.
Now, it's time to look at the other 59 minutes, 57 seconds to figure out how a 24-point underdog could pull off one of the biggest upsets on a day full of them in college football.
Let's break down the film.
The big man taking center stage
Michigan came in averaging 48 points per game. It was as an efficient offensive machine. Beating Michigan would require the best defensive performance of the season — and Iowa got it.
Like most memorable Iowa games, it started up front. Defensive tackle Jaleel Johnson was the best player in the game. His play kept Michigan from controlling the line of scrimmage and mauling Iowa with its rushing attack.
Johnson made his presence known early in the second quarter. With Michigan on its 2-yard line, he used a swim move to get around offensive guard Kyle Kalis. Michigan running back De'Veon Smith had no chance to get out of the end zone on the safety.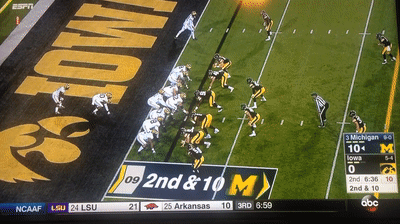 This is arguably the biggest play in the first half. The Wolverines were in control, ahead 10-0 and scored on their last two possessions. This gave Iowa a much-needed spark and stopped Michigan's momentum. The Wolverines would only score a field goal the rest of the way.
Johnson was all over the field. He led Iowa with nine tackles, a rare feat for a defensive tackle. He recorded two tackles for loss and one sack. Johnson's draft stock could very well improve off this film.
Iowa needed its star defensive players to come up big against the Wolverines. It was the first step of the defense putting together a big game. Linebacker Josey Jewell recorded eight tackles. Cornerback Desmond King made six stops and was his usual self in pass coverage.
King did get flagged for throwing a punch (and then flipping off the ref when he announced the unsportsmanlike conduct penalty). King did take full responsibility afterwards, but that can't happen. There is no excuse for acting that way.
But the penalty didn't hurt the Hawkeyes. Iowa held Michigan to a field goal, just like it did when the roughing the center penalty in the fourth quarter put Michigan in scoring position. And, yes, it was the correct call on safety Brandon Snyder.
Have yourself a day
Starting cornerback Greg Mabin didn't play. Starting safety Miles Taylor left the game after the first defensive play.
It forced Iowa to turn to cornerback Manny Rugamba and safety Anthony Gair, who each both put together strong performances.
Michigan tried to attack both players in the passing game, but the Wolverines never connected on the big play over the top against either defender.
Gair had the third most tackles, seven, and played sound football. He blitzed on this play and tracks down Smith in the backfield for a stop with Rugamba helping on the tackle.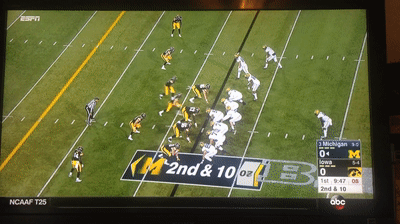 Rugamba was the defensive equivalent of the wide receiver that only catches touchdown passes. It seemed like all he did was make big plays. He knocked the ball away from Michigan wide receiver Amara Darboh in the end zone.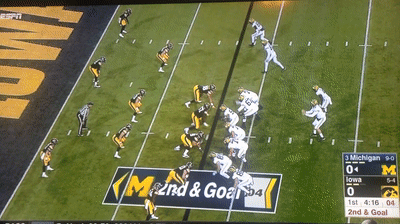 Rugamba also ripped the ball away from Michigan wide receiver Jehu Chesson for an interception in the fourth quarter.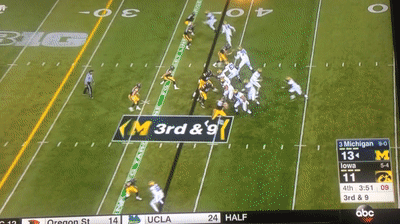 He finished with four tackles, three pass breakups and an interception. It wasn't a perfect day. Double moves tripped him up a few times, but Michigan quarterback Wilton Speight never made him pay.
Overall, there was a lot more good than bad from both Rugamba and Gair, which kept Michigan from exploiting the Iowa defense in ways Penn State had a week earlier.
Putting the lid on Peppers
Michigan all-around superstar Jabrill Peppers was as big of a non-factor as a team can make him. He recorded five tackles and didn't make an impact on offense. Iowa knew a run would come when Peppers lined up in the Wildcat and limited him to 11 yards on four carries. Peppers entered the game averaging 8.8 yards per rushing attempt.
Peppers just never found room to run. On this play, Iowa linebacker Josey Jewell gets to Peppers in the backfield on the zone read. The rest of the defense swarms over for a gang tackle.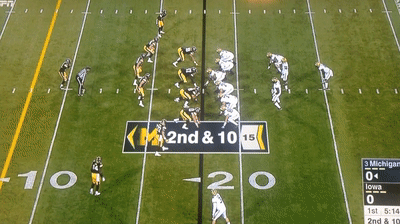 This play demonstrates why Iowa held Michigan to 98 rushing yards. Defenders flew to the football, quickly making reads and tackling soundly. The Wolverines longest run was 12 yards. There was no room for big plays on the Iowa rush defense.
OC the offensive MVP
The best performance for the Iowa offense didn't come on the field. It took place in the press box. Iowa offensive coordinator Greg Davis probably called his best game of the season.
Davis is a constant target for fans with his conservative and, in some spots, repetitive or predictable play calling. Iowa needed to show something different against Michigan, and did.
It started on the first series. Quarterback C.J. Beathard faked a handoff to running back LeShun Daniels and then pitched the ball to running back Akrum Wadley on the perimeter. Davis also called a play-action pass where a double move resulted in wide receiver Jerminic Smith getting wide open.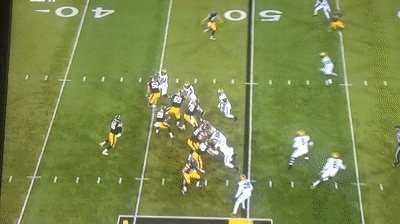 Smith dropped the pass. He also needed to break his route off toward the sideline instead of near the safety, as ABC analyst Kirk Herbstreit pointed out.
There is a difference between poor play calling and struggling with execution. This game was the perfect example. Iowa used a double pick in a trips look on a two-point conversion that freed wide receiver Adrian Falconer. Like Smith, Falconer couldn't hold onto the football.
Davis stayed aggressive, continuously throwing new wrinkles at Michigan — something to try to jumpstart the offense.
The first snap after the safety appeared to be a halfback pass with Wadley, but he ran instead. Iowa opened the second half with a reverse. The Hawkeyes gained only 230 total yards. The passing game to the wide receivers was non-existent and Michigan recorded three sacks.
But Davis kept channeling his inner MacGyver, trying to find ways to get the offense going with few resources. It's what a coordinator is supposed to do.
Wadley's World
The best thing Davis did was get Wadley the ball. It's an obvious choice. Wadley is only the best playmaker on offense.
But what made this game for the Iowa offense was getting Wadley involved in the passing game. Iowa wide receivers had only caught three passes for 14 yards. So Davis started trying to incorporate Wadley into the aerial attack early in the second quarter. He called the play-action fake go-route that resulted in Wadley scoring a touchdown against Iowa State. It didn't work, but Davis kept going to him, which proved the difference in Iowa's three scoring drives.
| | | | | |
| --- | --- | --- | --- | --- |
| Possession | Rushing Attempts | Yards | Receptions | Yards |
| TD | 2 | 3 | 3 | 37 |
| FG | 3 | 30 | 0 | 0 |
| FG | 2 | 3 | 1 | 10 |
Wadley accounted for 76.1 percent of Iowa's yards on those three drives. He finished with 167 all-purpose yards, including five receptions for 52 receiving yards.
He was the one Hawkeye to consistently make plays, and Davis turned to him on his best play call of the day. Davis called a screen pass on fourth-and-goal at the Michigan 3-yard line. The play was designed to counteract Michigan's pressure. At least five of the seven players on the line of scrimmage blitzed. It was hard to tell if Michigan linebacker Mike McCray blitzed or was just picked off by center James Daniels in man coverage on Wadley.
Regardless, a lane opened on the left side for Iowa and Wadley slid there, caught the pass and went into the end zone as Iowa cut its deficit to 10-8 in the second quarter.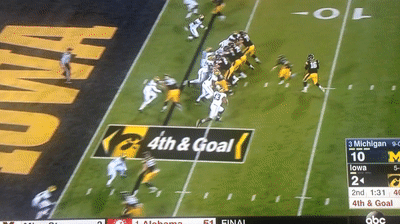 Wadley made things easy for Davis in the running game. His elusiveness and cutting ability proved to be the kryptonite for a stout Michigan run defense.
He would gain 115 rushing yards and used his athleticism in space to make Michigan pay for missing tackles. He used a jump cut on this run place to get around Peppers. Wadley found a huge rushing lane to his right and ran for 22 yards.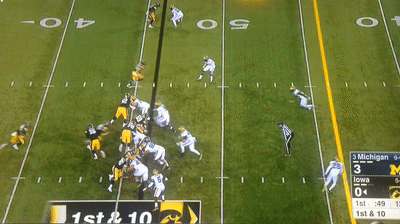 Iowa didn't make many plays on offense, but Wadley made enough for the Hawkeyes to win the game.
Somersaulting Iowa forward
Saturday started out like a Charlie Brown-type scene for Iowa punter Ron Coluzzi.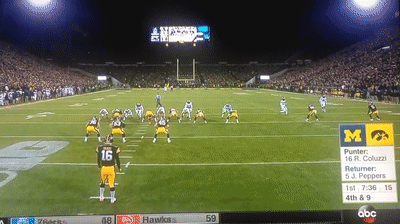 The bad snap forced Coluzzi to pull back his punt and try to run for a first down. The play was there, but Coluzzi couldn't stay on his feet.
Things did turn around for Coluzzi. He averaged 47.0 yards on six punts and placed three inside the 20-yard line, including this one on the 2-yard line.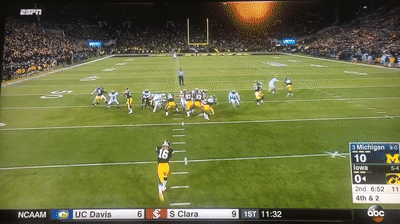 Coluzzi was a weapon. His punts neutralized Peppers, the Michigan return man who returned one punt for 19 yards.
His performance is likely underrated, but was vital in Iowa's upset victory.
Final thoughts
Defenses dominated. Neither team did enough to separate from the other for most of the game.
The 15-yard facemask penalty by McCray on King's final punt return set up Iowa for the winning field goal. The announcers called it a controversial call. McCray either lightly tugged on the face mask or his hand just grazed it.
Either way, McCray put himself in a position for the ref to throw the flag. It looked like the right call live and also when watching the play in its entirety on a film review. Replays didn't give clarity one way or the other.
The penalty, along with a 10-yard Wadley screen pass and an eight-yard Beathard draw set up kicker Keith Duncan for the winning 33-yard field goal.
Pandemonium ensued. Iowa fans can thank the defense, Davis, Wadley and Coluzzi for it.