At Second Glance: Iowa offensive questions arise from Penn State loss
IOWA CITY, Iowa — Something unexpected occurred while watching a replay of the beatdown Iowa took on Saturday at Penn State.
Questions about Iowa popped up. Not the kind that occurred during the 41-14 loss about how the No. 12 Nittany Lions outclassed the Hawkeyes. There were answers there (and they're coming up).
No, the questions that popped up were about what Iowa looked to do on offense, regardless of the outcome, and why it happened.
Let's break down the film to show why.
Wadley the passing game decoy
The last two weeks were surrounded with talk about Iowa running back Akrum Wadley spending time at wide receiver. Iowa offensive coordinator Greg Davis did it. So did Wadley.
A pattern emerged when the Hawkeyes put Wadley out wide and lined up running back LeShun Daniels at running back.
| | | |
| --- | --- | --- |
| Play | Action | Result |
| 1 | Wadley motion and jet sweep | 0 yards |
| 2 | Wadley motion and Daniels handoff | 2 yards |
| 3 | Wadley motion and jet sweep | 3 yards |
All Iowa did was run with Wadley out wide. It wasn't a success. The best play of the three was this 3-yard run, where tight ends George Kittle and Noah Fant can't create a rushing lane and the defense stops Wadley on the jet sweep.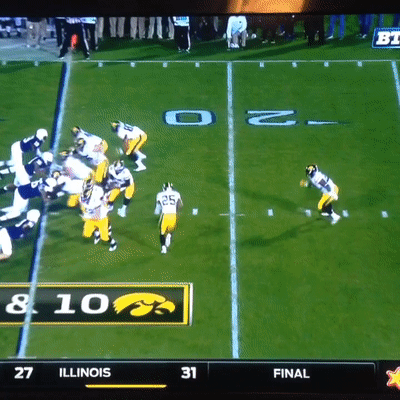 Iowa only used Wadley as a running back at wide receiver. The question is why? It's understandable to use him as a decoy or as a rusher on the first play to offset the expected pass Penn State might think is coming.
The move was designed to help inject some life in the passing game, but the Hawkeyes didn't do it. They ran the ball three times and then essentially abandoned the idea. The formation didn't lead to rushing success, but Iowa couldn't run the football in any formation on Saturday.
Upon second glance, Wadley at receiver seems like a wasted opportunity. A new offensive wrinkle wasn't going to alter the outcome, but the passing game needed help. This was the genesis of the move, because Wadley could help. Instead, Iowa appeared to view him as a running back lined up out wide.
The odd part of this is that Iowa did feature Wadley in the passing game. He tied for the team lead with 5 receptions out of the backfield. He took a screen pass 12 yards for a touchdown.
The Hawkeyes still threw him the football when he was lined up at running back. So why not put it in the air with him at receiver? Passing with Wadley in the slot wasn't just about getting him the football. It could alter the way teams defend Iowa and create an opening for someone else.
It's still unknown if the shift will work. So is knowing if Iowa really wants to throw the ball out of this look. Doing more of the status quo out of the new wrinkle isn't what the Hawkeyes needed.
More passing game thoughts
Iowa did do some different things with the aerial attack. There was more of wide receiver Adrian Falconer and tight end Noah Fant. More routes went downfield.
But the results were the same, even if quarterback C.J Beathard topped 200 passing yards for only the third time all season. Receivers struggled for separation and time wasn't always there. Penn State recorded four sacks. It's the same song and dance from September and October.
At a certain point, a team is what it is. It's November. Three games remain and for the passing attack, that likely means the inconsistency is here to stay.
Jerminic Smith was one bright spot out of the receivers. He tied for the team lead with 5 receptions for 85 yards. This was the first game he looked like the intermediate and downfield threat Iowa needed him to be after the Matt VandeBerg injury.
Smith caught a 36-yard touchdown on a dig route. When the Penn State safety fell, he made the most of the opportunity and headed to the end zone.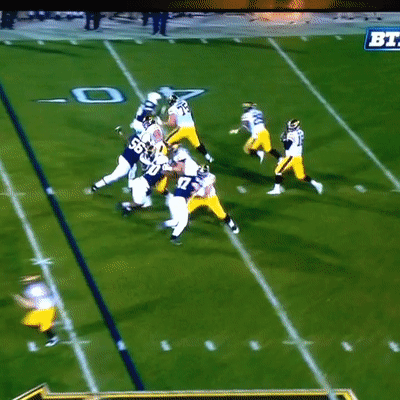 Smith's two biggest plays of the day came on dig routes. Penn State was a step forward. The question is if he can do it again in the final three games and build confidence heading into 2017.
The disappearing third-down conversions and rushing game
Iowa went 3 of 12 on third- and fourth-down conversions. The figure is bad, but it gets worse. Seven times the Hawkeyes needed 4 yards or less on third or fourth down. They converted only once.
| | | | | |
| --- | --- | --- | --- | --- |
| Play | Distance | Yardline | Action | Gain |
| 1 | Third-and-4 | Penn St. 37 | Daniel run | 3 yards |
| 2 | Fourth-and-1 | Penn St. 34 | Beathard sneak | 0 yards |
| 3 | Third-and-2 | Iowa 49 | Wadley run | 1 yards |
| 4 | Third-and-1 | Iowa 38 | Daniels run | 0 yards |
| 5 | Third-and-1 | Iowa 44 | Daniels run | 0 yards |
| 6 | Third-and-1 | Iowa 44 | Beathard sneak | 2 yards |
| 7 | Third-and-1 | Iowa 30 | Pass | Sack |
Iowa tried running in those short situations and couldn't gain the necessary yards. When a team can't clear enough space for a couple of yards, it ends up rushing for 30 yards like Iowa did.
This wasn't the first time an opponent controlled the line of scrimmage this season. Each time it ends up with a running game that stalls out and gaining a yard becomes tough. It happened far too often Saturday, like on this fourth-and-1 play below where Penn State linebacker Jason Cabinda sticks Beathard short of the first down.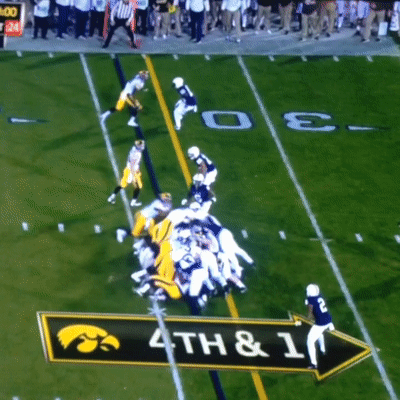 What happened to the defense?
The best spread offenses stress a defense by isolating and attacking a weakness again and again. It's part of the reason why so many points are scored in the Big 12.
Penn State put on a clinic in exploiting weakness against Iowa. The Nittany Lions went for 599 total yards. There may be no better example of what Penn State did than the 57-yard touchdown run by running back Saquon Barkley.
Iowa was in the Raider formation as Barkley took a jet sweep on third-and-5. The wide receivers ran upfield to clear out the defensive backs. The amoeba nature of the Raider ends up with Iowa linebackers Josey Jewell and Ben Niemann near the middle of the field. The Penn State center engaged Jewell, and Niemann can't scrape over the top to get to Barkley.
Because no linebacker is there, a big hole emerged. Barkley should gain about 7 yards on the play, but it went for more because safety Brandon Snyder took a poor angle to Barkley. The result was a good Penn State play becoming a great one. As the mistakes compounded, a hole becomes a huge crease.
Spread offenses are inherently designed to ensure there isn't much help for a defender. If one misses a tackle, a short play becomes a big play. If multiple defenders can't perform their assignment, big plays pop up as often as political TV ads in the fall.
Putting all the success for Barkley's touchdown run on the scheme doesn't do justice to the runner. He made Iowa safety Miles Taylor fall down with a juke move. He used another juke to get past both cornerbacks Desmond King and Greg Mabin.
Barkley is a special player. Multiple times he made multiple defenders look silly with one move. It's why he rushed for 167 yards and it's why Iowa seemed to want to contain him at all costs and it opened up the passing game.
Take a look at Penn State's first touchdown. Iowa cornerback Desmond King bit on the play-action, opening his hips and for a split-second he thinks it's a run. That hesitation is all Penn State wide receiver Saeed Blacknall needed to get open on his 19-yard reception.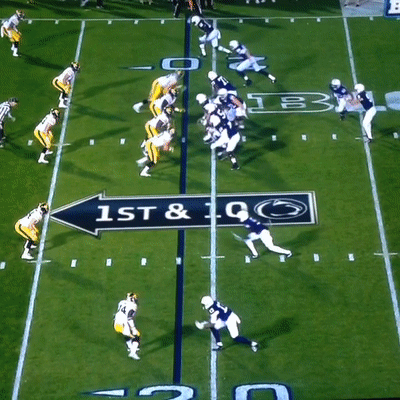 The combination of the spread offense forcing Iowa defenders to play in space and misidentify run or pass plays was at the heart of four Penn State receivers catching a pass of at least 25 yards.
No pass play stood out more on Saturday than Barkley's 44-yard fourth quarter touchdown reception. He ran a wheel route and got behind the defense. Iowa linebacker Bo Bower was chipped by Penn State wide receiver Chris Goodwin. The bump gave Barkley the space he needed to zoom past Bower and strut into the end zone.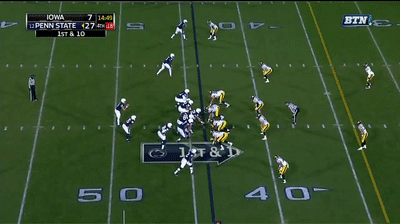 The Nittany Lions picked on the linebackers with edge runs off tackle. They also picked on the linebackers and took advantage of miscues by the safeties in the passing game. That last part isn't new.
Penn State put together a strong game plan and it was executed well. It all adds up to one of the worst defensive performances under coach Kirk Ferentz for Iowa.
Final thought
Questions coming out of the Penn State game just weren't for Iowa. One for the opponents could haunt the Hawkeyes. Can anyone else replicate what Penn State did?
No. 2 Michigan doesn't run the spread, but is better than the Nittany Lions and will be more physical. And the Nittany Lions were a more physical team than Iowa.
The final two opponents, Illinois and No. 10 Nebraska, utilize the spread. It wouldn't be surprising for both squads to use the Penn State footage as a blueprint on how to attack Iowa. If the Hawkeyes don't learn from this loss it could end up haunting the defense in the final weeks.